Funding and Partnerships
The Big Ideas ecosystem is made possible through the generous support of key donors. Although philanthropic funding provides much of the operational support for the Contest, each Contest category is sponsored by a particular organization. These category sponsors provide funding for the prize awards, as well as support in helping to build networks and broadly promote the Contest.
Contest Sponsorship
Contest sponsorship is the first step in getting a large-scale competition off the ground. The Big Ideas contest benefits from the generous support of the Andrew and Virginia Rudd Family Foundation, which provided a multi-year gift to support operational expenses. The Rudd Foundation has been integral to providing the support needed to establish and maintain the program's overhead by allowing Big Ideas to focus its fundraising initiatives on category sponsorships. It has also facilitated a great deal of continuity and knowledge carry-over within the contest by providing the resources necessary to allow for a long-term staff commitment. Ultimately, this type of sponsorship allows the program to concentrate efforts on improving upon its own effectiveness each year.
Category Sponsorship
The Big Ideas contest relies on a great deal of category sponsorship. In a category sponsorship, the majority of funding provided goes directly to prize funding for winners. A smaller percentage of each category sponsorship may be used to help fund operating costs. The 2015-2016 contest provided approximately $300,000 in direct award funding to the winners of the nine categories, averaging approximately $35,000 for each category.
In some cases, Big Ideas will approach prospective funders based on their interests and likelihood of financing an existing category. Other times, Big Ideas will engage with a potential category sponsor with broader interests (e.g. in student innovation) and negotiate the development of a category based on their priorities. Occasionally, a donor will have very clear expectations for a category. For instance, the Autodesk Foundation's goal to "support the people and organizations using design for positive social impact" led to the development of the "Hardware for Good" category. Big Ideas will often assess whether these topics round out the set of focus areas for the year. As some categories lend themselves much more readily to external sponsorships, different strategies are required of different categories. (See the chapter on Category Development for more information).
Category sponsors have access to a wide body of talented and diverse students and industry leaders, and the most innovative ideas emerging from some of the top universities in the world. In exchange for sponsorship, funders also receive branding and logo recognition at Big Ideas, co-design rights of the category, sponsorship of a category kick off or poster event, reserved appointments for judge and mentors, and a presentation at the annual Big Ideas Awards Celebration event.
Big Ideas has long-term relationships with many of its category sponsors. For example, both the Associated Students Union of California and the Center for Information Technology Research in the Interest of Society (CITRIS) have sponsored contest categories since its founding in 2006. It is also possible for multiple entities to fund the same category; the Food Systems category was funded by both Michigan State University's Global Center for Food Systems Innovation and the Berkeley Food Institute in 2015.
Partnerships
On a limited basis, Big Ideas forms "in-kind" partnerships with centers or departments in exchange for their advice and support with outreach to students, recruitment of mentors and judges, and other types of non-financial support. These types of key partnerships can raise the profile of the Contest and generate additional student interest. It also significantly reduces the administrative burden on the Contest staff to publicize categories and recruit judges and mentors for those categories. Former partners include the Berkeley Energy & Resources Collaborative, and Arts Research Center, Data and Democracy Initiative, and UC Berkeley Human Rights Center.
Both partnerships and sponsorships are essential resources for participating teams after they graduate from the Big Ideas contest. Big Ideas winners have gone on to develop their own relationships with Big Ideas partners and sponsors that are sustained long after they graduate from the program. As they leave the contest, Big Ideas will often cultivate relationships between winners and partners/ sponsors to help them seek further support for their initiatives and expand their networks. Partners and sponsors can also increase a winner's visibility; numerous Big Ideas initiatives have received substantial press through the UC System, UC Berkeley and USAID websites.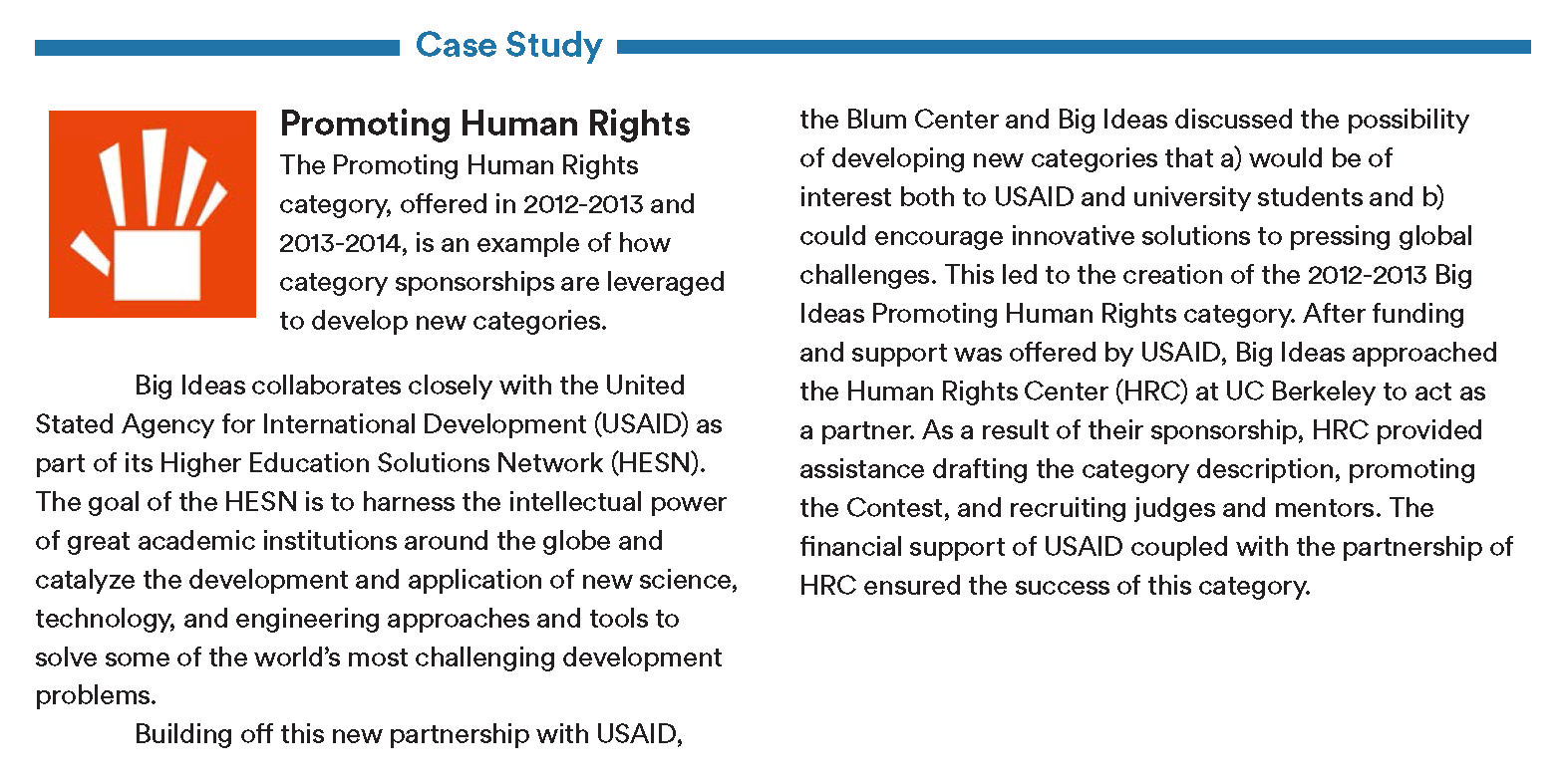 Tools