Program Management

Interdisciplinary Home
One of the major tenets of the Big Ideas program is that successful innovations have the ability to attack complex problems from a wide-range of viewpoints. To this end, Big Ideas seeks to foster interdisciplinary collaborations not just within the student body, but across the entire campus. Big Ideas serves as a "commons" for the entire UC Berkeley campus, breaking down the departmental silos that too often exist on college campuses by bringing together individual units (centers, departments, programs) and making them stakeholders in this competition and its processes. When opportunities for categories and sponsorships arise, this is the critical lens through which they are assessed.
Big Ideas is managed by UC Berkeley's Blum Center for Developing Economies. An interdisciplinary research center on the Berkeley campus, the Blum Center aims to join together world-class faculty, inspiring new curriculum, and innovative technologies, services, and business models to create real-world solutions to help combat poverty. Given its focus on driving innovation and student experiential learning, the Blum Center is well positioned to give earlystage innovators the necessary training and networks to achieve wide social impact, and continues to manage the Contest as a resource for UC Berkeley and other eligible campuses.
Notably, many other universities host innovation contests that are housed within business schools and overseen by business school faculty and staff. Big Ideas believes, however, that to succeed in an entrepreneurial endeavor, all students, regardless of discipline, benefit from approaching social challenges from a wide range of viewpoints. The Big Ideas contest benefits from being housed at a center focused on global issues and from partnerships developed with business, engineering, social sciences, public health, economics, and other key departments. With this interdisciplinary approach, the Big Ideas contest is uniquely positioned to offer to early-stage changemakers a wide range of perspectives and resources.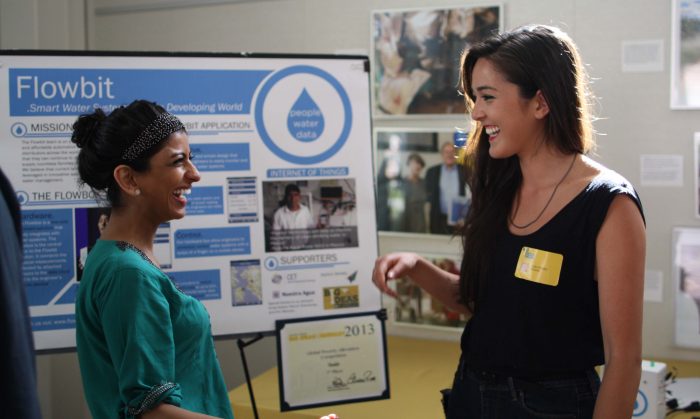 Staffing Requirements
As the number of applications has risen consistently each contest year, Big Ideas has added human resources accordingly. During the 2016-2017 Contest year, staff roles include the following:
Program Director (Staff Position – 100%):
The Big Ideas Program Director is responsible for developing and managing all aspects of the Big Ideas program. This includes both short-term objectives and longterm planning. The primary responsibilities of the Program Director include: establishing the vision and strategy of the contest, developing sponsorships and new categories, maintaining relationships with partner organizations and schools, reporting, hiring, and advising.
Program Manager and Student Advisor (Staff Position – 100%):
The Program Manager and Student Advisor is a full time staff position. In addition to assisting the Program Director with the implementation of all aspects of the Big Ideas program, this position serves as the main point of contact to participating student teams. Responsibilities of this position include: contest outreach and marketing, managing online application and review processes, facilitating workshops and trainings and executing Big Ideas events, and advising contest participants. Typically, the Program Manager dedicates 4-5 hours a week towards advising office hours. Additionally, this role is responsible for developing and implementing surveys and developing conclusions to help analyze and improve the effectiveness of Big Ideas, providing continuing mentorship and support to past winners, monitoring the progress of funded projects, and providing connections and recommendations for scaling up Big Ideas projects. Over the summer, the Program Manager is responsible for conducting the learning analysis in order to make programmatic adjustments for the following year.
Network Coordinator and Student Advisor (Graduate Student — 50% Fall/Spring):
The Network Coordinator and Student Advisor is a graduate student position. The primary responsibilities for this position include recruiting judges and mentors for the Preproposal and Full Proposal Rounds, leading trainings for the judging and mentorship processes, and assisting with the organization of Big Ideas events. In addition, the Network Coordinator also serves as an advisor to applicants and prospective applicants, typically dedicating approximately 4 hours per week towards advising office hours.
Graphic Designer (Undergraduate — 25% Fall/Spring):
Under the guidance of the Program Manager, the undergraduate graphic designer develops informational and promotional materials and ensures brand consistency across all Big Ideas publications. The responsibilities of the graphic designer range from sketching icons for contest categories, to developing programs and posters for events, to designing infographics for reporting purposes. Big Ideas has typically hired 2nd and 3rd year students to fulfill this role.
Student Assistant (Undergraduate – 25% Fall/Spring):
Big Ideas also relies on an undergraduate work-study student assistant to support it with a variety of administrative and creative responsibilities, including clerical tasks, website and social media content management, data management, event assistance, and communications.
Additional Support from Students
Big Ideas also draws from other student assistants working at the Blum Center for support with press, events, and photography/videography. These students are needed only several times per year, and can be contracted at an hourly rate.
Tips
The composition of the Big Ideas staff should reflect the goals of Big Ideas

. It should represent the diverse, multidisciplinary nature of the Big Ideas program with involvement of both graduate and undergraduate students. Ideally the skill sets of the employees should be as complementary as possible (humanities student vs. STEM student, domestic vs. international experience, service/ education-oriented approach vs. technical or business approach).

Prioritize candidates with a strong entrepreneurial background, wide network, and advising experience

. When hiring for the Program Manager and Network Coordinator roles, Big Ideas places an emphasis on the following attributes: first, the contest should recruit candidates who have participated in other innovation/ entrepreneurship programs or organization. They bring with them knowledge, connections, and commitment to project development and problem solving. Second, candidates with a wide professional network should be prioritized. This is especially relevant for the Network Coordinator, where the quality and quantity of the judge and mentor pool is a result of the student's ability to tap into existing networks. Third, candidates with some experience in education or mentoring also tend to serve as excellent student advisors, as they understand how to provide constructive critiques and challenge students without discouraging them.
Tools