Resources for Student Innovators
The Contest is intentionally designed to support students as much as possible throughout the process of submitting a Big Ideas application and developing their proposal. The goal is to provide students with the resources they need to get ideas out of their heads and onto paper, then help them to develop the skills necessary to turn those ideas into actionable plans with the potential for real-world, sustainable social impact.

Core Resources
Big Ideas has thus developed a network of support services and opportunities for feedback to assist students at each phase of the Contest, which was designed following a review of other campus innovation and business plan competitions and modified based on feedback from students who have participated in Big Ideas. It is important to note that by offering these resources to all applicants during the Pre-proposal stage of the Contest, Big Ideas ensures that even those teams that do not move on to the Full Proposal round benefit from participating in the Contest. Perhaps thanks to these resources, an increasing number of applicants not chosen as winners have chosen to revise and resubmit their proposals in subsequent Contest years.
Information Sessions
In the Pre-proposal Round, information sessions are designed to inspire students and provide information on contest rules and requirements. These sessions typically feature a talk by a past Big Ideas winner who reflects on his or her experience during the Contest and the progress they have made. Past Big Ideas winners who have spoken at information sessions include Alejandro Valez and Nikhil Arora, Co-founders of Back to the Roots Ventures, and Laura Stachel, Co-founder and Medical Director of WE CARE Solar. These speakers serve as a draw for the event and set the stage by inspiring students to think about their own potential to impact society.
Following an inspirational presentation by a past winner, students are provided with information about Contest basics (e.g., the Contest timeline, eligibility, requirements, and examples of past winners). A Big Ideas mixer typically follows information sessions, where students are invited to meet other students interested in participating (and perhaps find team members for their project—a formidable challenge for most student teams in the beginning phase of the Contest) and ask Big Ideas staff questions about the Contest.
In the Full Proposal Round, the information session takes place as a Final Round Kickoff Event where all finalists and their mentors are invited to listen to an overview of the Final Round from Big Ideas staff.  This session goes over the requirements and timeline of the Full Proposal Round, as well as advertises additional prize opportunities that teams can participate in (such as video contests and pitch events). Importantly, it outlines the expectations of the mentorship period and establishes clear roles for team members and their mentors (see the Final Round Kickoff Event section in the Mentorship chapter for these guidelines).
Writing Workshops
In writing workshops, Big Ideas staff present information on best practices for clearly and persuasively communicating ideas and crafting each of the Pre-proposal application sections. These workshops provide information to students who have never submitted a proposal or grant application. While the information sessions are aimed at providing more general knowledge on contest participation, writing workshops offer more guidance on proposal content. The sessions break down the required components of each proposal in detail, and outline best practices and common mistakes made in previous years. Big Ideas advisors also provide writing workshop attendees with example past proposals and the option to either a) read and critique example proposals as a group, or b) workshop their own drafts or project ideas with the group.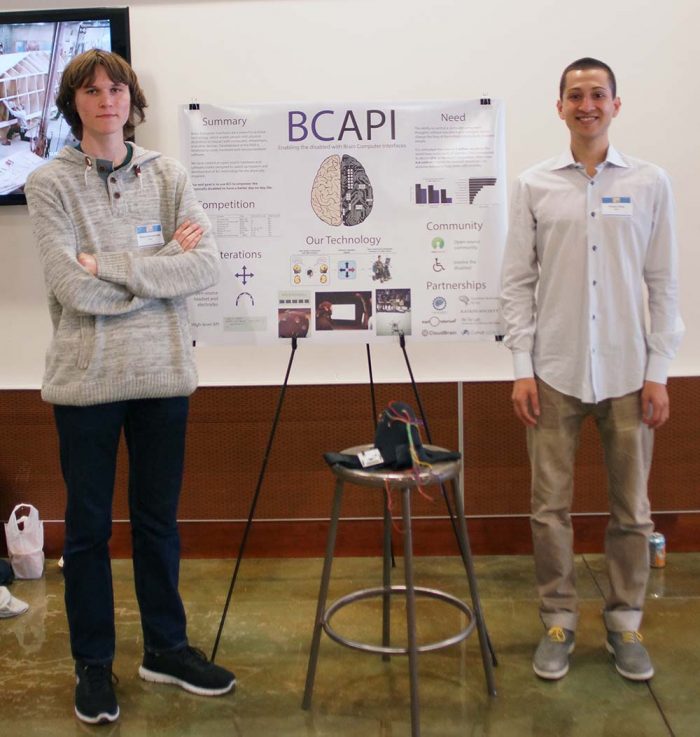 Networking & Team Building Opportunities
As the Big Ideas contest has grown, there has been an increase in requests by applicants for networking and team building events. Students, especially those in the sciences, STEM disciplines, and professional schools, tend to interact only with students within their departments and have little opportunity to connect with students with different areas of expertise and skillsets. Big Ideas believes that it is beneficial to provide students with opportunities to meet, interact, and partner with others from outside their disciplines to encourage creative, interdisciplinary thinking.
Nearly all Big Ideas events (e.g., info sessions and workshops) conclude with a mixer that allows students to talk informally with one another about their projects, or ask questions of Big Ideas staff. For the last few years, Big Ideas has partnered with entrepreneurial centers and clubs from across the campus (e.g., Engineering, Business, Public Policy, Natural Resources) to hold an Innovators@Cal event at UC Berkeley. This event consists of three parts: 1) a speech from a social innovator, 2) a pitch opportunity for participating students, and 3) a mixer and team building session for student innovators to meet one another. Former speakers include Danae Ringelmann, Cofounder of Indiegogo, Krista Donaldson, CEO of D-Rev, and Michael Faye, Cofounder of GiveDirectly. The Innovators@Cal event was publicized as an opportunity for students to learn about the startup environment at UC Berkeley, form teams with others across disciplines, and learn how to approach a problem from different viewpoints. Because it was jointly organized and broadly publicized, the event generated significant student interest from across the campus. Thanks to the event, numerous interdisciplinary teams were formed and expanded.
Due to increased demand for such opportunities, Big Ideas also started hosting an Idea Generation Dinner as an additional opportunity for students to form Big Ideas teams. The Idea Generation Dinner follows the same format as Innovators@Cal, except without the keynote speaker. The difference between the two events is that the Idea Generation Dinner caters to students with explicit interest in submitting a project that falls under a Big Ideas category, whereas Innovators@Cal draws from a broader audience of students interested in UC Berkeley's entrepreneurship landscape.
Advising Office Hours
Big Ideas staff is available throughout the entire year to assist with advising on proposals. In both rounds, advisors hold drop in office hours (depending on the number of staff, typically a total of 10 hours are offered per week) that students have access to. In the week prior to each deadline, Big Ideas staff extends office hours throughout the entire day so that students may schedule advising sessions at their convenience. For teams located remotely, video conferencing via Google Hangout or Skype is recommended. To learn more about effective advising strategies, see the chapter on Advising.
Editing Blitzes
Editing Blitzes were added to the network of support services during the 2012-2013 Contest year in response to applicant feedback indicating that they would benefit from last-minute feedback on drafts of their proposals. During Editing Blitzes, held the day before each proposal deadline, teams are invited to drop-in with drafts of their proposals and specific questions for Big Ideas staff, past winners, and past judges and mentors to review and answer. Editing Blitzes are the students last opportunity to get input from Big Ideas staff and advisors in order to make final tweaks to their proposal submissions. In the 2015-2016 contest year, Big Ideas extended the Editing Blitz to last from 9am – 9pm two days before the Pre-proposal and Full Proposal deadlines. Initially these editing blitzes were held the night before the deadline, however, due to feedback from teams, they are now schedulee two days prior to the deadline. This allows teams additional time to incorporate the feedback that they receive during the Editing Blitz into their proposals.
Mentorship
A mentorship with a leading industry leader is one of the cornerstones of the Big Ideas experience, and is cited as one of the most impactful services offered to applicants by participating teams. After finalists are chosen from the Pre-proposal Round, teams are offered a six-week mentorship opportunity with a Big Ideas mentor. Mentors are matched to finalists based on whether their backgrounds match the skills gaps identified by teams in their mentor request form. The Big Ideas mentorship is a unique opportunity for Big Ideas contestants to gain real world perspectives on their proposed innovation, and expand their network beyond academia. For a comprehensive overview on mentorship recruitment, matching, and best practices, read the full Mentorship chapter.
Judge Feedback
Big Ideas teams also benefit greatly from the amount of detailed feedback they receive from each judging round. The Contest goes to great efforts to ensure that not only are proposals being scored based on the established criteria, but that judges are also providing a substantial amount of written feedback to the teams so that they may incorporate these expert opinions into the design of their innovations. Thus, even teams that do not advance to the Final Round or are declared winners are able to benefit from the process and improve their programs. To learn more about how to encourage judges to provide useful feedback, see the chapter on Judging.
Supplementary Resources
Additional Skills Workshops
Outside of its core services, Big Ideas continues to expand its offerings to fill skills gaps identified by students. Based on the survey feedback from past Contest years, Big Ideas teams most frequently requested additional guidance on product design, building a strong network, and estimating the working capital necessary to start a social venture. Big Ideas has thus organized additional workshops on budgeting, networking, and impact design. The Spring 2016 Impact Design workshop provided event participants with an approach to integrate traditional design skills such as engineering and architecture with a human-centered approach to problem solving, and received a great deal of positive feedback from teams. In the future, Big Ideas hopes to remain responsive to students' changing needs, and offer a greater number of similarly useful workshops to its applicants.
Practitioners in Residence (PIR) Sessions
Through the Blum Center, Big Ideas provides all of its contestants access to the PIR program, which connects on-campus innovators and social entrepreneurs with a wide range of experts from Industry, non-profits, government, and social enterprises. Big Ideas teams are offered priority access to 30-minute one-on-one consulting sessions with a range of entrepreneurs and other practitioners working on projects for social good. The program provides unique opportunities for real-world perspectives and mentoring, and offer students feedback on topics ranging from health technologies, financing social ventures, developing metrics systems, and intellectual property law. Former PIRs include Elliot Anderson (Sanku Fortification), Sheila Desai (USAID India Mission), Paul Towne (CARE), Barb Krause (Global Social Benefit Incubator), James Bernard (Microsoft Education), Louise Fox (World Bank), Sylvia Lee (Skoll Global Threats Fund), Glenn Yago (Milken Institute's Financial Innovation Lab), and Hash Zahed and Ryan Pokrasso (SPZ Legal).
Tools